October 2, 2016: Why Do You Worry So Much?
Posted on : Sep 29th, 2016 | By office | Category: This Sunday's Service
"Why do you worry so much?" Jesus asks.
Good question, Jesus.
Just this morning I woke up worrying.  I was worrying over something that needs to be ready three weeks from now.  I asked myself "Why are you worrying about this?"  I have plenty of time to get this finished and in the end, I know God will make this work.  Then I started laughing as I remembered that's the question we're focusing on this Sunday!
Martin Copenhaver, in his book, "Jesus is the Question" offers these thoughts:
Jesus does not want you to worry.  In fact, he repeatedly insists that you not worry – not that his insistence helps very much.  No one can stop worrying on command.  But Jesus does offer help in the presence of worry through (you guessed it) a series of questions.
It is telling that Jesus' longest teaching on a human emotion is about worry.  That is particularly remarkable in light of all the other possibilities.  Jesus could have talked most extensively about sadness, fear, grief, loneliness, or shame.  Instead, it is worry he addresses at length.  He could have talked at great length about positive emotions – emotions such as happiness, love, or gratitude.  Jesus addresses all of those emotions and more, but Jesus' longest teaching about any human emotion is reserved for worry.
In looking at various translations of Jesus' teaching about worry, I came across a contemporary paraphrase of Jesus' teaching as told in Matthew 6: 25-34.  I worry about using it.  I don't think the first two paragraphs are quite right.  I don't blame the author.  I think we've all read those words wrongly for centuries.  But I like the message of the last two paragraphs.  Those words get us to what Jesus was trying to teach us.
Worry, Jesus teaches, implies there is no God, or at least not a God who cares or a God who can act.  Worry says, "It is all up to me."  Worry sings the old gospel song "I've got the whole world in my hands." The actual message of that song is the opposite.  It's "God's got the whole world in God's hands."
Tradition has it that, on one occasion when the great Protestant Reformer, Martin Luther was consumed with worry, his wife began to wear black.  When Luther finally asked her why, she replied, "Haven't you heard?  God is dead."
Worry can not only kill us (shorten our life span); it can also kill our ability to believe, to have faith in God.
If you're worried about worrying, this Sunday is for you!
Blessings,
Dan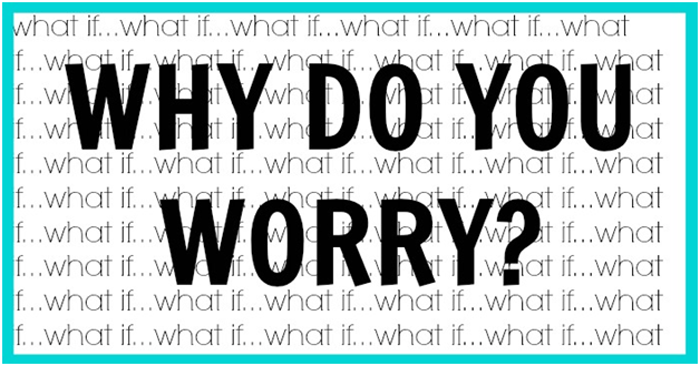 ~ This Sunday's Scripture ~
 Matthew 6: 25-34
From:  The Message, a contemporary paraphrase of the Bible
"If you decide for God, living a life of God-worship, it follows that you don't fuss about what's on the table at mealtimes or whether the clothes in your closet are in fashion. There is far more to your life than the food you put in your stomach, more to your outer appearance than the clothes you hang on your body. Look at the birds, free and unfettered, not tied down to a job description, careless in the care of God. And you count far more to God than birds.
"Has anyone by fussing in front of the mirror ever gotten taller by so much as an inch? All this time and money wasted on fashion—do you think it makes that much difference? Instead of looking at the fashions, walk out into the fields and look at the wildflowers. They never primp or shop, but have you ever seen color and design quite like it? The ten best-dressed men and women in the country look shabby alongside them.
"If God gives such attention to the appearance of wildflowers—most of which are never even seen—don't you think God will attend to you, take pride in you, do God's best for you? What I'm trying to do here is to get you to relax, to not be so preoccupied with getting, so you can respond to God's giving. People who don't know God and the way God works fuss over these things, but you know both God and how God works. Steep your life in God-reality, God-initiative, God-provisions. Don't worry about missing out. You'll find all your everyday human concerns will be met.
"Give your entire attention to what God is doing right now, and don't get worked up about what may or may not happen tomorrow. God will help you deal with whatever hard things come up when the time comes.